Burgh by Sands has more history than many places in the Solway Coast Area of Outstanding Natural Beauty.
This is the place where King Edward I of England died, on Burgh Marsh, as he planned another battle against the Scots. He had camped on the marsh in a place where his army could cross to Scotland at low tide.
King Edward's body lay in St Michael's Church in Burgh by Sands until it was taken to Westminster Abbey.
This 12-century church was erected upon the Roman fort of Aballava on Hadrian's Wall. It is not known how old its foundations are, but the visible sections are Norman and many Roman stones are used in its construction. The stone carvings of mythological beasts in the undercroft of the church are believed to be Anglo Saxon and probably came from an earlier church which stood on the site.
This is an unusual building as it originally had two towers, one at either end of the church. The western end housed the bells, while the eastern tower protected the priest from Scottish raids. It has massively thick walls and entry was through a heavy gate, or yett, which could only be accessed from inside the church.
And there is more outstanding architecture in Burgh by Sands which makes this hamlet very special. It is home to several clay dabbin buildings – the Solway Plain is one of the only places in the UK where they still survive. Have a look at our clay dabbins page to find out more about how they are built.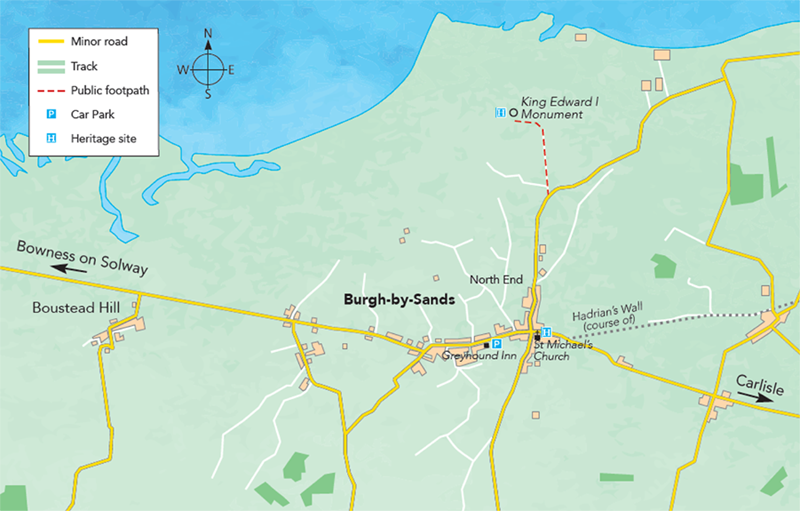 Facilities
Free parking
Parking
Village hall
Pub
Information boards


Did you know…?
Burgh by Sands became internationally famous in 1964 because of the photograph of the Solway Firth Spaceman. A snap taken by fireman Jim Templeton seemed to show an astronaut standing behind his daughter. It was later said to be his wife, with her back to the camera, with overexposure turning her into a white figure.
Look for…
The clay dabbin buildings in the village – Edna's Cottage, Leigh Cottage and Lamonby Farm.
Getting here…
Bowness on Solway is on the coast road from Carlisle which runs through Burgh by Sands, Drumburgh and Glasson. The nearest railway station is Carlisle.