RSPB Campfield Marsh Reserve

Campfield Marsh is a fabulous place to visit – and it's also home to the Solway Wetlands Centre so you can find out loads of information about the Solway Coast Area of Outstanding Natural Beauty.

This nature reserve is a unique mix of different habitats. Trails from the Centre take you into the heart of the site where you can follow the boardwalk across Bowness Common, one of the largest peat bogs in the UK.

The reserve started with 52 hectares of saltmarsh purchased in 1987, then expanded over to include three areas of farmland and with 65 hectares of raised peat bog. The area now totals 335 hectares of the Solway coast.

It's a place for all seasons. In the spring, look out for the courtship displays of the lapwings. They have suffered major decline over the last 60 years but Campfield Marsh still has healthy numbers of breeding pairs. The water table in the grass farmland is held high during the spring to create the wet muddy pools which are ideal for feeding young chicks.

Out on the sands, there are thousands of wading birds who stay from the autumn through to the spring. Look out for redshanks, ducks and geese, as well as some migrant warblers.

The peat bog, or raised mire, is home to breeding curlews and snipe, as well as dragonflies and large heath butterflies. Around the nature reserve there is arable farmland and that creates a whole other habitat for tree sparrows, reed buntings, linnets and skylarks.

This is a hugely family-friendly place too. There's the family discovery zone with self-guided activities, and pond-dipping nets, trays and guides are available to borrow from the visitor centre. There's also a natural play area to explore.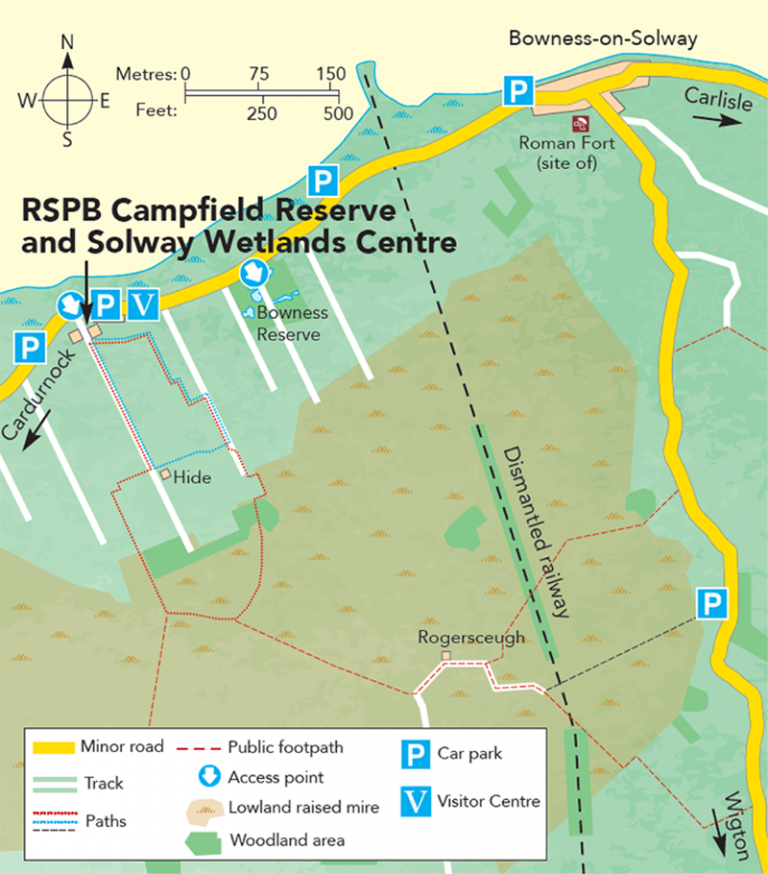 Following the latest clear instructions
from the government for us all
to remain at home, the
reserve facilities are
closed until further notice. 
Facilities
Free parking
Information point
Tea & coffee
Toilets
Disabled access
Picnic area
Natural play area


Did you know…?
The Solway Wetlands Landscape Partnership Scheme built a clay dabbin building here using the very traditional methods once found all over the Solway Coast. You can step inside and find out how they did it.
Look for…
The family trail which takes you in search of Elmo the Peewit, otherwise known as a lapwing. Grab a map from the Solway Wetlands Centre.
Getting here…
The Solway Wetlands Centre at RSPB Campfield Marsh is signposted off the coast road, 1.5 miles west of Bowness on Solway. The nearest railway station is Carlisle. More detailed information can be found on the RSPB website.