Some of the finest sand dunes in the Solway Coast Area of Outstanding Natural Beauty are to be found at Mawbray Banks.
They are part of the reason this is a Site of Special Scientific Interest.
These dunes are unique habitats and home to rare animals like the natterjack toad. It breeds in shallow pools, which often dry out in the summer, and is recognised by a yellow band on its back and yellow eyes – please don't try to catch one as they are a protected species and cannot live in any other conditions.
The dune grasslands merge into an area of dune heath, which is now very rare in Cumbria. These dense banks of gorse and broom scrub are important for birds and invertebrates but are invasive and have overtaken the dune heath. The dunes are also important for breeding and roosting birds such as oystercatcher, curlew, stonechat, the rare little tern, bartailed godwit and ringed plover.
One of this area's best kept secrets is a submerged forest – even some of the locals don't know that it's there. It's a mysterious place dating back 8000 years which has had little research – it's thought to be pine or oak, which has been hidden off the coast by the sea. It's sometimes visible if the tides are right. You can read about it on the Solway Shore Stories website, written by local coastal explorer Ann Lingard.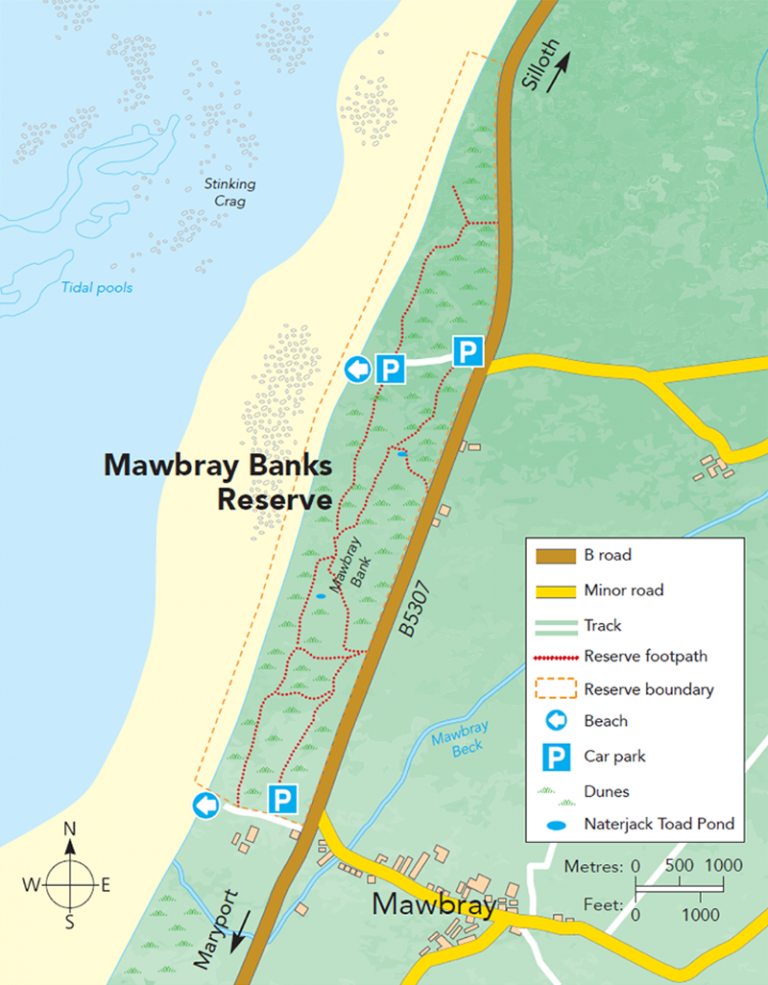 Facilities
Free parking
The nearest toilets are available in Allonby to the South and Silloth to the North
Refreshments and other facilities are available at Allonby, Silloth and Bank Mill Nursery at Mawbray
Did you know…?
Adult natterjack toads can grow up to eight centimetres in length and they run rather than jump or hop.
Look for…
The bright yellow flowers of the gorse – they smell like coconut sun tan lotion!
Getting here…
Mawbray Banks five miles south of Silloth and two miles north of Allonby beside the B5300 coast road opposite Mawbray village. Access to the car park, reserve and beach is via a gravel track.
Wolsty Banks three miles south of Silloth on the seaward side bordering the B5300. There are a series of car parks giving access to the dues and beach.